What's happening
Tāiko Festival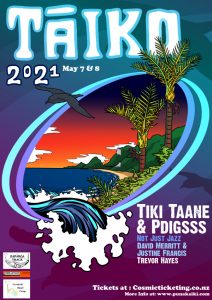 The 2021 Tāiko Festival will take place on May 7 & 8. Headline act is Tiki Taane & Pdigsss, with Not Just Jazz, David Merritt & Justine Francis, Trevor Hayes all on the bill too.
The annual festival celebrates the Tāiko (Westland Petrel) which returns from South America to Punakaiki once a year to breed. It's a weekend of conservation, community events and entertainment.
facebook.com/TaikoFestival
Charleston Market
Over winter there's a market on the second Sunday of each month from May to October at Charleston, about 25 mins north of Punakaiki.  
Fox River Market
Throughout summer the Fox River Market runs on Sunday at the marketplace just north of the Fox River bridge. There are food and craft stalls, live music and more. The market starts at 9am every Sunday from Labour Weekend through to Easter. Stall holders start packing up at about 2pm.
Dolomite Point redevelopment
Visitors will notice work currently being done at the side of State Highway 6 through Punakaiki. There is a shared pedestrian/cycle pathway underway as part of the work being done in the Dolomite Point Redevelopment Project. When this is complete residents and visitors will be able to walk or cycle safely from Hartmount Place at the northern end of Punakaiki all the way to the Punakaiki River at the south.